The Elite Rebuild Lab is designed to meet the recovery needs of athletes. We utilize cutting edge recovery tools along with sports medicine based modalities to promote injury prevention, faster recovery, & pain free performance.
Self-Service Rebuild
Infrared Sauna
2 Person Infrared Sauna chamber to boost immune system, flush toxins, soothe aching muscles and increase rich oxygenated blood flow.
ReAthlete Compression Therapy
Compression Massage Therapy for legs, hips, and arms.
Sports Massage Chair
Increase blood flow and improve circulation, lower lactic acid built up from stress or strenuous exercise
Massage Guns
Warm-up & recover like a pro with our percussion massage guns.
SELF-SERVICE OFFERING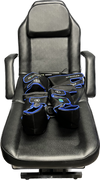 ReATHLETE COMPRESSION THERAPY