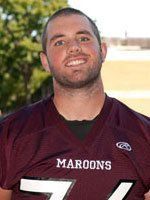 DR. JOHN W. TABASH
Father of John Tabash - University of Chicago
My name is John W. Tabash. As a former high school and college football player,I realize the importance of sound teaching fundamentals and technique. My son,John,began at Elite Football Academy at age 15. He has been instructed in sound fundamentals of rush and pass blocking for an offensive lineman. He has also had the unique opportunity to have many sessions of "1 on 1" work against other high school, collegiate, and professional defensive lineman. Therefore, he is getting the best of not only learning the fundamentals and techniques but then practicing those techniques against other live competition.
The 3 years of working with Elite Football has improved my sons football ability as well as self-confidence to perform on the football field. He has definitely had a distinct advantage over his competition with his Elite Football background.
I highly recommend Elite Football Academy to any young football player who wants to improve his skills and learn the sound fundamental techniques of blocking,tackling,running,catching, and passing. The highly qualified staff are all former players who know and understand what it takes to be successful on the field and who work well with the children and make it a fun!