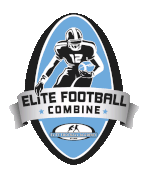 ELITE FOOTBALL COMBINE
The Elite Football Combine is an Elite Level Combine designed to give high school players the high level experience of the Professional Football Combine which is held annually in Indianapolis, IN. The EFC is offered to all high school football players throughout the Midwest.
The Elite Football Combine provides an opportunity for players to gain objective testing results from a nationally recognized & trusted source. Players are also able to showcase their skills and talents in position-specific drills and 1-on-1's.
Verified test results will be given to each player, as well as be sent to collegiate football coaches and recruiters from NCAA Division I, IAA, II, III and NAIA football programs. Please note all players will be given the option of whether or not they would like to have their test results published and sent to college programs.
Elite Football Combine's Mission
TO PROVIDE AN ELITE LEVEL OPPORTUNITY FOR HIGH SCHOOL FOOTBALL PLAYERS IN THE MIDWEST TO DISPLAY THEIR ATHLETIC SKILLS AND GAIN OBJECTIVE PERSONAL TEST SCORES IN ORDER TO ALLOW EACH PLAYER TO FURTHER THEIR ACADEMIC AND ATHLETIC CAREERS.
THE MIDWEST'S PREMIER HIGH SCHOOL FOOTBALL COMBINE