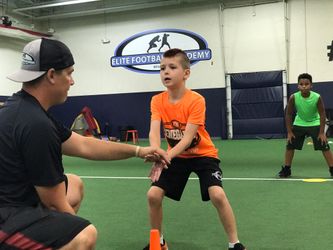 POSITION-SPECIFIC SKILLS | SMALL GROUP
All positions offered DB,DL,LB,OL,RB,QB,WR
Training is offered in comprehensive 80 minute sessions.
Focus on basic & advanced skill sets.
Learn the "How" & "Why" of each skill set.
Game simulated drills to test learned skills.
Training is conducted by EFA's Certified Position Coaches.
All new players receive a Complimentary Small Group Training session. Please Click Here to sign up for your Free Session.
Training Schedule:
Sundays 11:00am-12:20p | January - July
Sundays 2:00p-3:20p | August - October
Wednesdays 6:40p-8:00p | February - August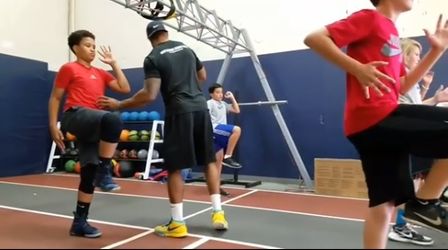 PERFORMANCE TRAINING
Elite Performance Small Group Training offers athletes the opportunity to gain confidence in their body, as well as their movement skills. Elite Performance develops programs specifically for each athlete; which incorporate cutting-edge technologies to deliver maximized training results.
Our science driven programs help athletes learn the correct way to become faster, quicker, stronger...BETTER. Our experienced staff is here to meet the diverse performance needs that their sport requires.
Training Schedule:
Offered Year-Round | Monday thru Friday
4:30p-5:30p & 5:30p-6:30p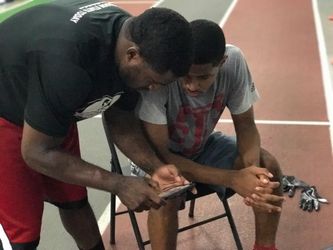 POSITION-SPECIFIC SKILL | PRIVATE
All positions offered DB,DL,LB,OL,RB,QB,WR
Training is offered in personalized 60 minute sessions.
Focus on basic & advanced skill sets based off skills assessment.
Customized training program designed to meet overall goals.
Training is conducted by EFA's Certified Position Coaches.
Sessions Scheduled by Appointment
Call 636-346-1371 to Schedule your Session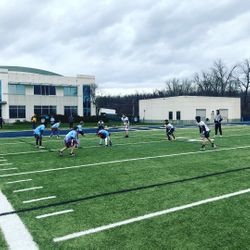 FLAG FOOTBALL
We offer Instructional Flag Football, Competitive Youth and Middle School Outdoor Programs, and Indoor High School Leagues.
The goal of the Elite Flag Football Program is to blend Elite Football Academy's skill development expertise with the sport of flag football.
Instructional Flag Football
Instructional Flag Football is a training program indoors at Four Vetta Sports Locations. The program is available to kids Kindergarten through 6th grade and maintains a low player:coach ratio to ensure every child receives the necessary attention to learn fundamentals, repeat skills, and get consistent feedback and encouragement.
Outdoor Flag Football
The Elite Flag Football Program blends Elite Football Academy's skill development expertise with a competitive outdoor flag football league. The program is open to all area youth and middle school players and teams. Teams are encouraged to sign-up and play together. Players without a team may sign up for one of our house teams. The house teams will be coached by one of EFA's coaches.
Our programs are open to all area youth/middle school players and teams. All programs include professional football skill education in a safe educational environment.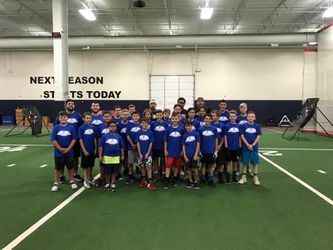 CAMPS & CLINICS
Elite offers a variety of camps and clinics for Players & Teams. Camps are staffed by Elite Football Academy's expert coaches many of whom are current or former college and professional players.
Camps & Clinics are Offered Year-Round.
Offered for Both Individuals and Teams.
Position Specific Focused Curriculum
Summer Football Skills Camps
Players are given the opportunity to learn a new position each day or they may choose to stay with the same position group the entire camp. EFA has been providing high quality football skills development camps for over 16 years. Offered 2nd week of June & July each Summer.
Summer Sports Camps
The Elite Summer Fun Sports Camp is unlike any the St. Louis area has ever seen! Learn and play a new sport each day of the week! Baseball, football, soccer, lacrosse and volleyball will be taught on separate days of the week.
Elite Performance Academy has also partnered with SkyZone, Upper Limits, BounceU, and Little Fishes to expand your child's fitness levels and fun capacity. Each week of the camp includes two excursions to our partner locations!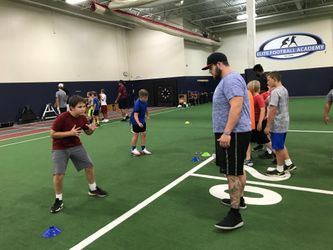 TEAM TRAINING
Elite offers Football Teams the most complete athletic performance and football skills development program. Football 360 Team Training is a unique program develops long lasting speed, rapid change of direction, plus football specific functional strength, & elite level, position-specific skills.
Each Session Includes both Football Performance Training & Position-Specific Skills Training.
Areas of Focus:
Increased movement confidence
Increased overall athleticism
Increased Explosion, Speed, Acceleration
Increased Change of direction, Deceleration
Injury reduction training
Position-Specific Skills Development
Classroom Work (Optional)
Flexible training mix available to meet the needs of the players & team. Call 636-346-1371 to learn more about this program.